Experience the acoustic guitar in a whole new way
WHAT IS IT?
The ToneWoodAmp allows you to play your acoustic guitar with different effects, UNPLUGGED – with the effects emanating organically from the guitar's sound hole and the body itself.
HOW IT WORKS?
Similar to the way the strings excite the top of the guitar to produce sound, the ToneWoodAmp excites the back of the guitar, producing sound waves of effects such as reverb, echo, delay, tremolo and more, which interact with the natural sound of the guitar itself.
WHAT ELSE?
The ToneWoodAmp is also a multi-effect processor which you can connect with any Amp/PA system and is also an iDevice interface allowing you to experiment with audio and MIDI apps.
For those who don't have an electro-acoustic guitar, we are offering high quality "technician-free" pickup bundles: a Fishman Neo-D soundhole magnetic pickup for steel string guitars and the Kremona NG-1 tie-bar  piezo pickup for nylon string guitars. Please check the Order page for these bundles.
Amazing Amp-less
Acoustic Experience
The ToneWoodAmp provides the newest and most unique acoustic guitar playing experience without the need for an amplifier! It enhances the natural sound of virtually any acoustic guitar, adds depth, texture and effects, and creates a unique surround sound feel never experienced by acoustic guitar players before (see video testimonials below).
Doubles As a
Multi-Effect Processor
The ToneWoodAmp can be used also as a multi-effect processor. In a situation where you need to amplify your guitar, you can connect the output jack to your amp or P.A. system and use the "blend" mode to dial the amount of guitar/effect you want to send out.
Triples as an
iDevice interface
If you desire to experiment with more effects and other cool tools, you can use your ToneWoodAmp with an iDevice and try your favorite apps including guitar effects, MIDI instruments and much more!.
Works With Any
Acoustic Guitar
You can install the ToneWoodAmp on any flat or (slightly) arched-back acoustic guitar. Electric and non-electric*, steel and nylon strings, all can work with the ToneWoodAmp.
Compatible pickups: magnetic pickup for steel string acoustic guitars and under saddle piezo pickup for both nylon and steel string guitars.
It Takes Only 5 Minutes
for the Initial Install
The initial installation and setup of the ToneWoodAmp is fast and easy, it requires no tools, and has no permanent impact on your guitar.
After the initial install, detaching and attaching the ToneWoodAmp to your guitar is a snap.
One ToneWoodAmp Can
Work With All Your Guitars!
Because the ToneWoodAmp can be quickly and easily removed and reattached, it can easily work with all of your acoustic guitars.
Get one X-Brace for each of your guitars and see how it changes your experience with any acoustic guitar that you own!
Wow… and it doesn't seems to change the natural tone of the guitar!
Teacher / Guitar Specialist - Guitar Center
They're very good people to work with always keeping me informed what was going on with production and problems, love the honesty!! Thank you for the the new toy!
Ofer … I just posted on your FB page that my amp(s) arrived Christmas Eve …. And they're great! I just recently realized that you're the inventor/designer of the unit and I have to tip my hat to you. This is one of the most creative, out-of-the-box c…
So I got my tone wood amp last night and installed it on my Takamine EF341SC. After spending about an hour getting the settings just right and adjusting for each effect….I have to say, this things is awesome!! The key here is making your adjustments …
Hi Guys, got my ToneWoodAmp, and I'm blown away by it. It's all you described it as, and more. I admit I got a little impatient, but it was well worth the wait. I'm having a ball experimenting with the different setting and sounds it produces. Thank …
I had been saving for 6 months to purchase a Plexi Drive Deluxe to add to my pedalboard. But after seeing Mike and Larry's videos I just had to put the pedal on hold. This is a must have for acoustic guitar! I received mine on Jan. 14. I purchased an…
Just put mine in last night. Still can't believe an acoustic guitar can sound like that without a separate amplifier. Haven't even tried all of the rest of the settings. Amazing.
I will probably do record some videos as testimonial and what I can tell you is that now that I have it in my studio I start to see some guitarist friends absolutely amazed by the result and some of the m will surely become soon or later some ne user…
The TWamp continues to amaze and inspire!
Yes I've been playing and singing since the Stone Age ,now 76 and have played all type of guitars, acoustic, electronic, midi , but this gizmo is something new. I perform all over the place and I think folks are going to be vary impressed.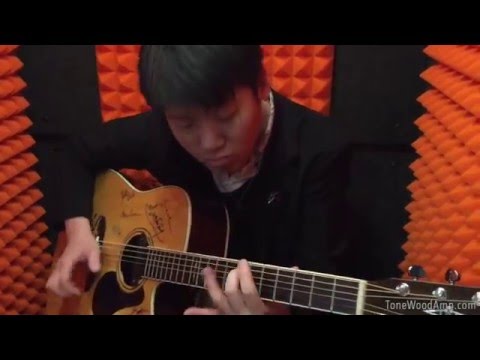 Video Testimonial
A 2010 Beijing International Fingerstyle Guitar Competition Winner try the ToneWoodAmp
Add effects to your living room guitar without having to connect to an external amp.

Use while practicing to make it a more fun experience

Write and compose with the ToneWoodAmp and get inspired by the new voicing and soundscapes you can create

Develop new tones and voicings for your guitar
Miss your amp when traveling? The ToneWoodAmp is your new perfect companion for your traveling acoustic guitar

Experiment with apps such as Virtual MIDI, guitar effects and other music apps (requires iDevice and apps)

Use as an acoustic multi-effect processor to connect with a P.A. system

Boost your solo performance when there is an unplugged house concert or live plugged stage performance.
General Specs of the
ToneWoodAmp
Inputs and outputs: the TWAmp has one 1/4″ input (from guitar), one 1/4″ output (to amp or P.A.) and one 1/8″ TRRS I/O for iDevice (and other devices).
Effects: Built-in 8 effects: 3 types of Reverb, Delay, Tremolo/Delay, Leslie style Tremolo, Auto-Wah and Overdrive. Chorus is under development.
Effect parameters: each effect has three parameters. For example, the delay/echo effect has the following: Speed, Regenerate and Reverb.
Save/recall of effect settings: there are 10 memory locations for each effect where you can store/recall favorite effect settings
Power: 3 AA batteries hold for an average of 10 hours.