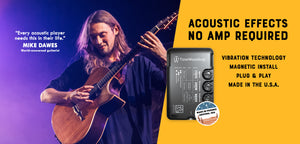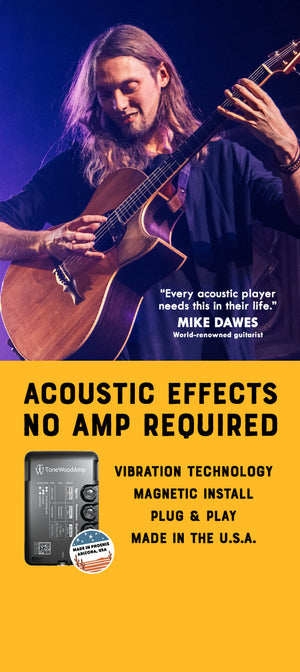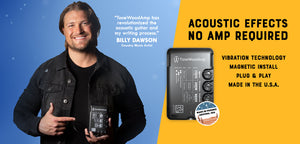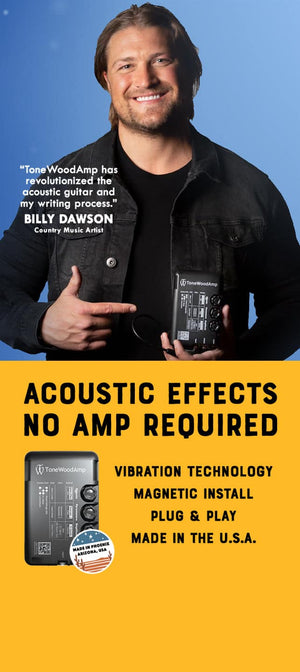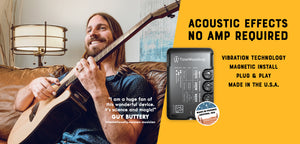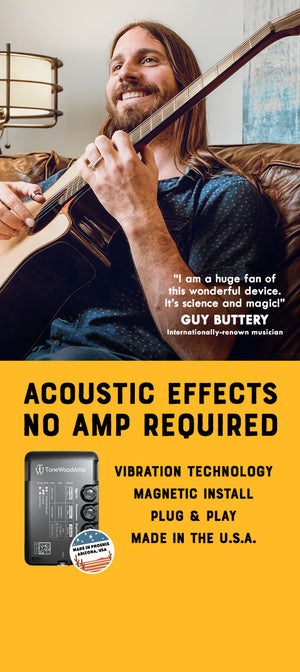 Best invention since sliced bread. I love it.✔️
—Austin Fielding
Customer
I have not played my guitar without it since I first tried it.
—Mike Fleming
Customer
I love my TonewoodAmp. It has totally changed my world.
—Jesse Lee Rocha
Customer
I love the amp and it has thrown my creativity through the roof!!! Thank you so much
—Ryan Perry
Customer
Legitimately one of the best purchases I have ever made in my entire life.
—Patrick Swett
Customer
What is it?
The ToneWoodAmp is a revolutionary device that uses an acoustic guitar's own body and soundhole to create a range of enhancement effects.
No amp. No cables. No effects pedals. And yet, all the same benefits!
There's nothing else like it—the first and only, the ToneWoodAmp is a must-have device for any acoustic guitar player.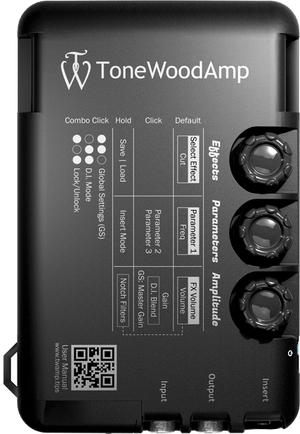 "REVOLUTIONARY PRODUCT"

"CUTTING-EDGE PRODUCT"

"COOLEST ACOUSTIC GUITAR GIZMO"

"OPENS UP A WORLD OF UNPLUGGED SOUNDS"

"The best $250 a guitarist can spend."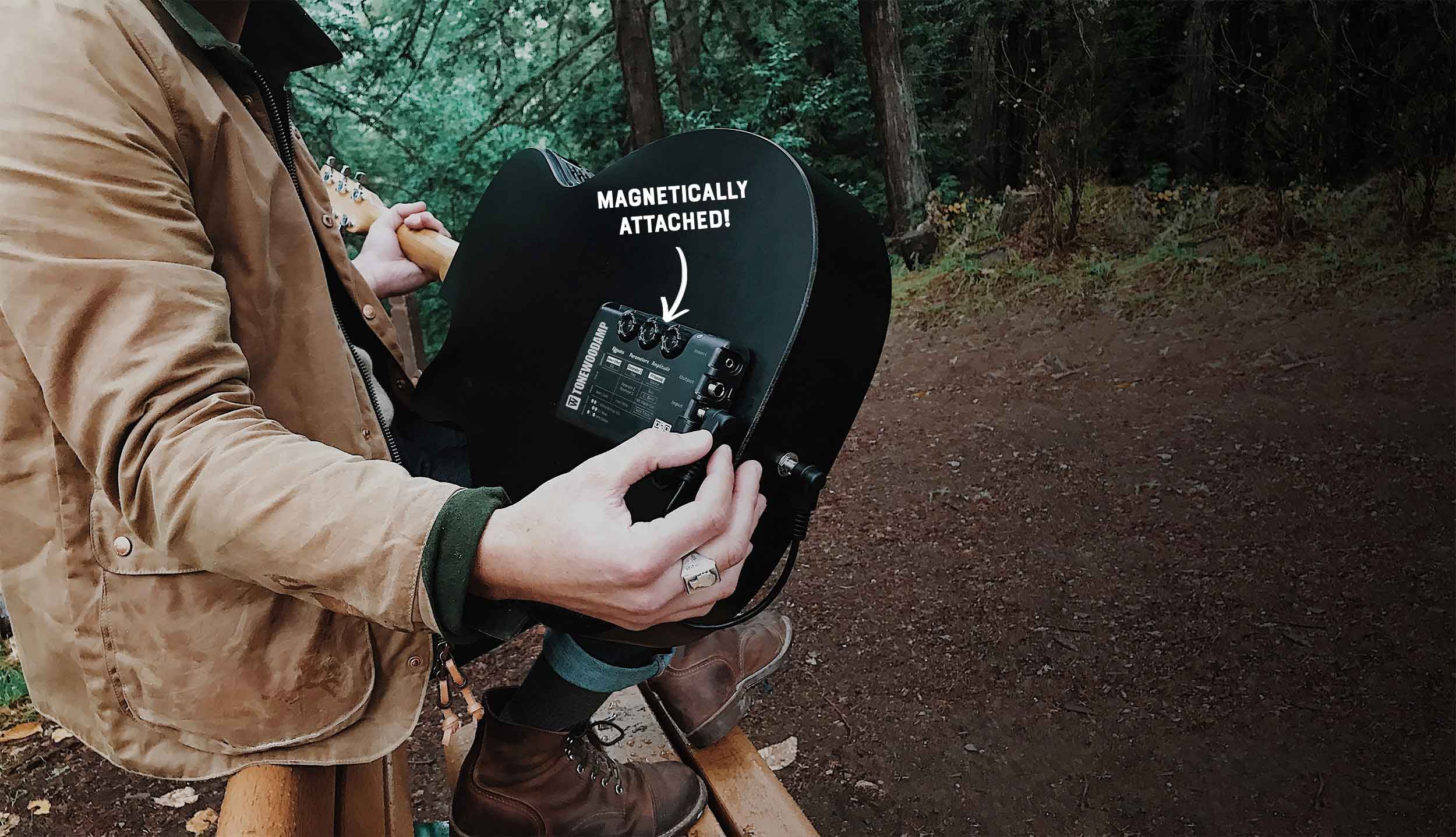 Why you'll love it
WARNING: ADDICTIVE!
It's not just a product, it's a full-on sensory experience! At home, in a recording studio or on a mountaintop, the ToneWoodAmp transforms your world into one big concert hall with virtually any acoustic guitar, anytime, anywhere.
It inspires new sounds and songs, travels easy, defeats writer's block, makes practicing fun again, and it's great for intimate gigs at coffee shops, house concerts and even intimate worship settings...it will mesmerize you and your audience.
We love to feature players like you, see our #TONEHEAD videos where players like you get recognized. (Use #ToneWoodAmp on your posts to show us what you're playing.)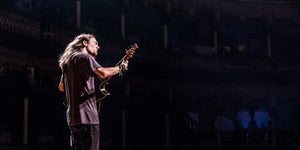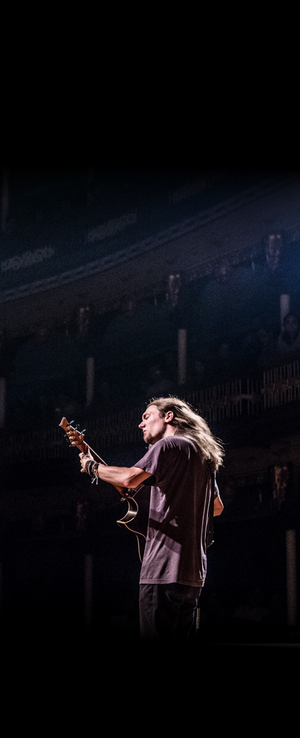 Features & Install
The ToneWoodAmp is quick & easy to install. No tools, no permanent impact on your guitar, and it switches easily between instruments. All you need is a guitar with a pickup. Don't have a pickup? We've got you covered with our bundles.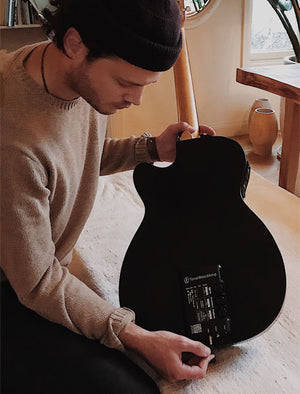 Features:
8 programmable effects with 10 memory locations each
3 parameters per effect
Volume and gain per effect
1/4" input from guitar
1/4" output for amplifier (when used on stage, the TWA doubles as a multi-effects processor)
1/8" insert jack for iOS audio/MIDI apps (iDevice cable sold separately (iDevice cable sold separately)
Powered by 3x AA Alkaline or Rechargeable batteries
Works with any flat-back or slightly arched-back Acosutic guitar
Attaches/detaches magnetically—purchase extra X-braces and use the ToneWoodAmp on all your guitars.
60 days return (only from ToneWoodAmp.com) 
1 year warranty (or 2 years extended warranty)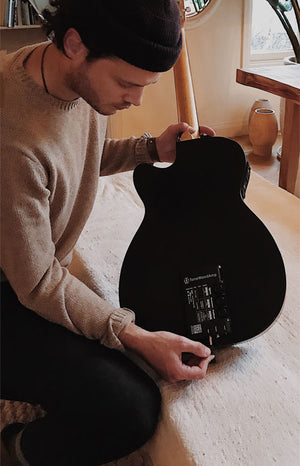 How Does It Attach? - No Drills or mods! Attaches magnetically.
How Difficult Is The Install? - Easy! No Tools Needed, Install takes 5-10 minutes!
Is it Removable? - Yes! Attaching/detaching takes 2 seconds.
Does It Get In The Way? - No! The install location is out to the side of your body.
Does It Cause Any Damage To My Instrument? - No! All points of contact are padded.
Will It Work With My Acoustic Guitar? - Have a soundhole? Have a pickup? Have a Flat Back? Yes!
Can I Use It On Stage? - Yes! There is an Output to an Amp or PA.
What Kind Of Batteries Does It Use? - 3 AA Alkaline or Rechargeable Batteries. See recommendations here.
Is There A User Manual? - Yes! Video and PDF. Find it here.
What Is Your Warranty? - Best in the biz! 60-Day Return and a 1-Year Warranty.